Anthony Albanese is set to announce Australia's most significant defence acquisition in the nation's history, procuring two types of nuclear-powered submarines under the AUKUS pact in a move that has surprised experts and raised fears of cost blowouts and delays.
The prime minister is expected to use a visit to San Diego next week to announce Australia will buy up to five Virginia-class submarines from the US, defying repeated warnings that American shipyards were stretched to full capacity and could not sell any boats to Australia.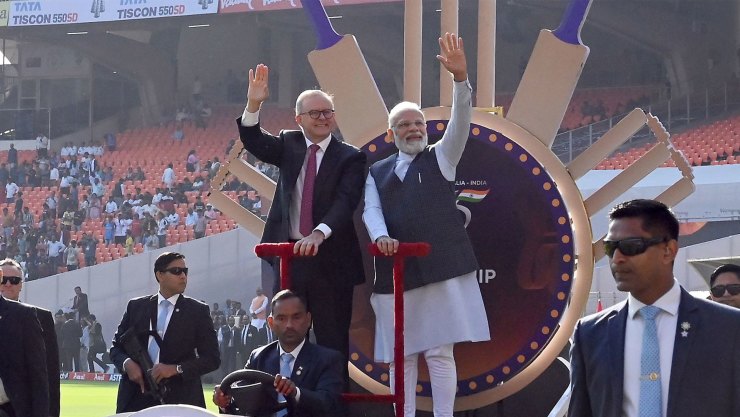 Australia's acquisition of nuclear-powered submarines will create 10,000 jobs
They are expected to arrive some time in the 2030s and could require Australia to spend billions of dollars to expand America's shipbuilding capacity, on top of paying for the submarines.
Australian Strategic Policy Institute analysts have previously estimated the submarine project could cost as much as $170 billion.
In the longer term, Australia will have its own fleet of nuclear-powered submarines based primarily on a new British design – a major victory for UK Prime Minister Rishi Sunak.
The plan is the result of an 18-month study overseen by Vice Admiral Jonathan Mead, the head of the nuclear-powered submarine taskforce, that has been underway since the AUKUS pact was announced in September 2021.
"It is difficult to overstate the step that, as a nation, we are about to take," Defence Minister Richard Marles told parliament on Thursday. "We have never operated a military capability at this level before."
Details of Australia's plan to acquire nuclear-powered submarines were briefed to Reuters and Bloomberg before the official announcement and have not been officially confirmed by the federal government.
Albanese, who is travelling in India, confirmed that he would appear with Sunak and US President Joe Biden in San Diego next week to make a major announcement.
He insisted Australia would retain "our absolute sovereignty 100 per cent" over the submarines, meaning authority over any operations would not be ceded to the United States or United Kingdom.
"It is very important that Australia as a sovereign nation state [retains control], and that's something that's respected by all of our partners as well," he said.
Richard Dunley, an expert in naval history and maritime strategy at UNSW, said the use of Virginia-class submarines as a stopgap measure before the arrival of a new three-country submarine was a "massive curveball" few experts had seen coming.
"They're an amazing capability, no-one would deny that, but this presents a whole lot of issues at a practical level. This has big question marks over it," he said. "There will be delays and cost blowouts – you can factor that in."
The long-term "AUKUS class" submarines, a modified version of the UK's next-generation Astute-class submarine, is currently being designed and is expected to enter into service in the 2040s.
The vessels would be assembled in Adelaide and include an American combat system, fulfilling Marles' vow that the AUKUS submarine project would truly be a three-nation endeavour.
The purchase of Virginia-class vessels would help Australia bridge a looming capability gap between the retirement of the current diesel-powered Collins-class submarines in 2038 and the arrival of the "AUKUS class" boats in the 2040s.
Malcolm Davis, a senior analyst at the Australian Strategic Policy Institute (ASPI), said he was concerned the Australian Navy could end up operating three types of submarines simultaneously: the current Collins-class vessels, the Virgina-class boats and the new "AUKUS class" submarines.
"That will be a logistical and sustainment nightmare, and that's likely where we're heading," he said.
James Acton, co-director of the Nuclear Policy Program at the Carnegie Endowment for International Peace, said the submarine program appeared to be a "goat rodeo in the making", using a common American term for a fiasco or chaotic situation.
Acton said it was risky for Australia to try to operate two types of nuclear-powered submarine given it had never used such technology before and adopting a modified three-country model would add further to the technical risk.
Tom Corben, a defence expert at the University of Sydney's United States Studies Centre said: "This would be a more complex, imaginative arrangement than many people would have expected when AUKUS was announced."
A delegation from South Australia is expected to visit the BAE Systems shipyard in the British port city of Barrow-in-Furness in the coming weeks to begin sharing information about the project.
Sunak is reportedly delighted about the outcome of the 18-month negotiations, which will help secure the future of the Barrow-in-Furness shipyard.
American nuclear-powered submarines are expected to regularly rotate at the HMAS Stirling Naval Base in Perth from 2027 while Australia awaits the arrival its own vessels.
Source: Brisbane Times