"I arrived at this farm without knowing what a blueberry plant was," says Aurelio Ortiz. A farming supervisor, Mr Ortiz is speaking as he oversees the harvest at Sunberries Field, a blueberry plantation in the south of Peru.
This blueberry farm is one of many that have cropped up along the South American country's flat, hot coastal region. It has been an agricultural boom that has taken Peru from having virtually zero blueberry plantations to becoming the world's largest exporter in only a decade.
It is a sunny day, and six labourers are spread across the field collecting the last of the blueberries that still crown the bushes. The workers are defying the heat with long sleeves, hats and headscarves to protect their skin from the blazing sun.
Most of them were not familiar with blueberries until a few years ago, when the fruit started replacing more traditional crops like grapes, cotton and asparagus.
"Ten years ago we saw blueberries as something impossible to grow here," says Alvaro Espinoza, an agricultural engineer and the owner of Sunberries Field.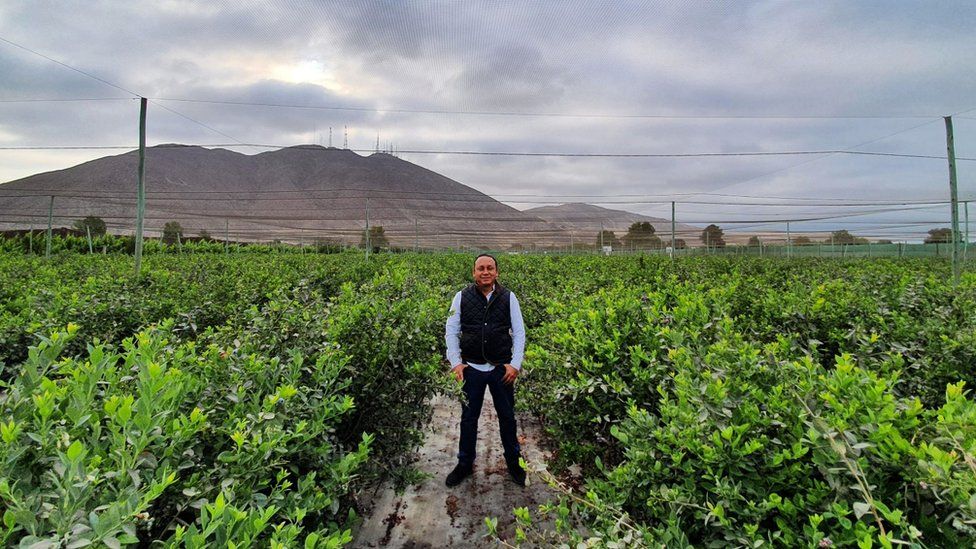 Back then he had tried to secure investment from Peruvian businesspeople, but they declined, saying it was not possible to grow blueberries in Peru's coastal heat. This is because the plants typically require a certain number of days per year with cold temperatures.
"They said, 'Alvaro, you're out of focus… do something else.' But I didn't," says Mr Espinoza.
A decade later, Peru is the world's third largest producer, behind only China and the US, and the top exporter with more than $1.36bn (£1.09bn) worth of blueberries sold overseas last year.
Small producers like Mr Espinoza have made accommodations to help the plant grow. "In Peru, the soil is not right for blueberries," he says, as he kneels to show one of the hundreds of terracotta pots lined up in rows across his field.
Blueberry bushes are grown inside them, taking root in coco coir – a coconut-based compost – imported from Sri Lanka.
"If we want good quality blueberries we need a place where roots can grow with oxygen and no stress. Coco coir allows us to produce good quality roots," explains Mr Espinoza.
But pots and imported coco coir on their own did not solve the challenge of introducing a northern hemisphere fruit into Peru's hot and arid coastal region.
Blueberry plants typically need some cold weather – which you get in the Peruvian Highlands, up in the Andes mountains, but not in the coastal region. The latter is, however, the area favoured by agricultural exporters because of its closeness to ports, and a flat geography that is easier to manage than the rugged Andes.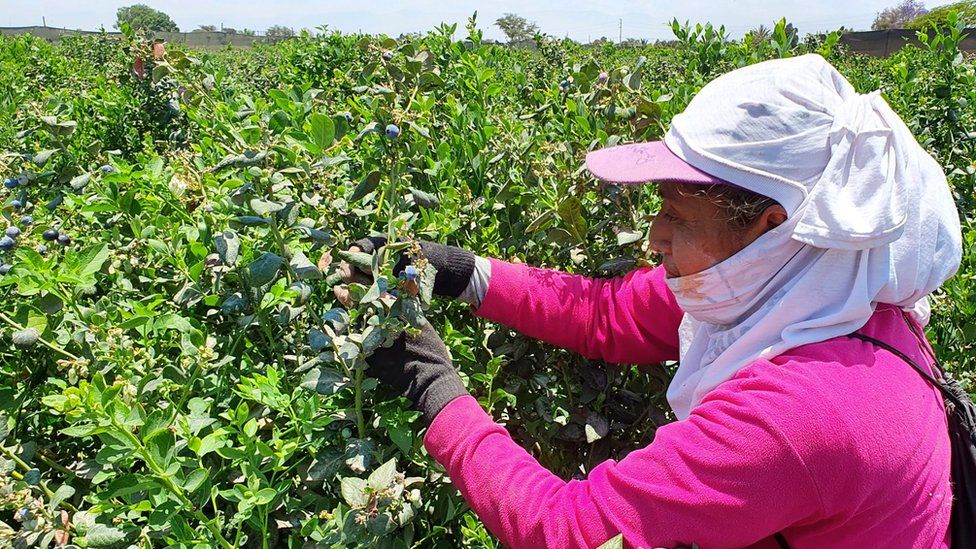 Mr Espinoza tried to set up a nursery to develop new blueberry varietals that can cope with hotter year-round weather, but failed. "So I decided to leave the breeding to the experts and I focused on publicising blueberries."
Those experts were led by Carlos Gereda, founder and chief executive of Inka's Berries. After hearing from his father that blueberries had become a very profitable crop in Chile, Mr Gereda began searching for a variety that could grow on Peru's coast.
It took him two years of trials with 14 different kinds of blueberries to find the right one – Biloxi.
Mr Gereda has since partnered with the University of Georgia in the US to start a breeding programme that has developed new Peruvian varieties, all named after his family – Salvador (his son), Matias (his nephew), Abril (his niece), and Blue Dan (after his wife, Daniela).
The $300 he used to found the company has paid off – Inka's Berries now has an annual turnover of $3m. The firm sells blueberry plants to both small producers like Mr Espinoza, and to the largest agricultural exporter in the country, Camposol.
In only a few years, blueberries have become Camposol's main product, overtaking former best-selling crops mandarins, grapes, mangos and avocados.
Jose Antonio Gomez, the company's chief executive, says he has never seen a product progress so quickly in his industry. Camposol now farms 3,000 hectares of blueberries that bring in a bit more than half of the firm's entire revenue.
"We harvested last year about 50,000 tonnes," says Mr Gomez. "In Peru, we had a previous expansion on grapes. It was fast and furious but not as fast as blueberries."
Mr Gomez explains why betting on developing Peruvian blueberries looked so lucrative – he and others noticed a gap in the global market.
He says that if you go back to 2010, blueberry production in the world took place mainly in the US and Canada, with some 300,000 tonnes of berries harvested across the two countries every August, mostly for their own domestic markets.
Outside of North America, the main producer and exporter was Chile, which harvested around 76,000 tonnes in December. So there was a big gap from September to November that – at the time – was only very partially being filled by 15,000 tonnes of blueberries from Argentina and Uruguay combined.
Due to the historic global scarcity at that time of the year, producers in those two countries could get $15 per kilo, compared with $3 to $4 for US blueberries in August. So Peruvian blueberry farmers decided – successfully – to also focus production on those three months.
"There was a huge economic incentive for Peru to take that window," says Mr Gomez.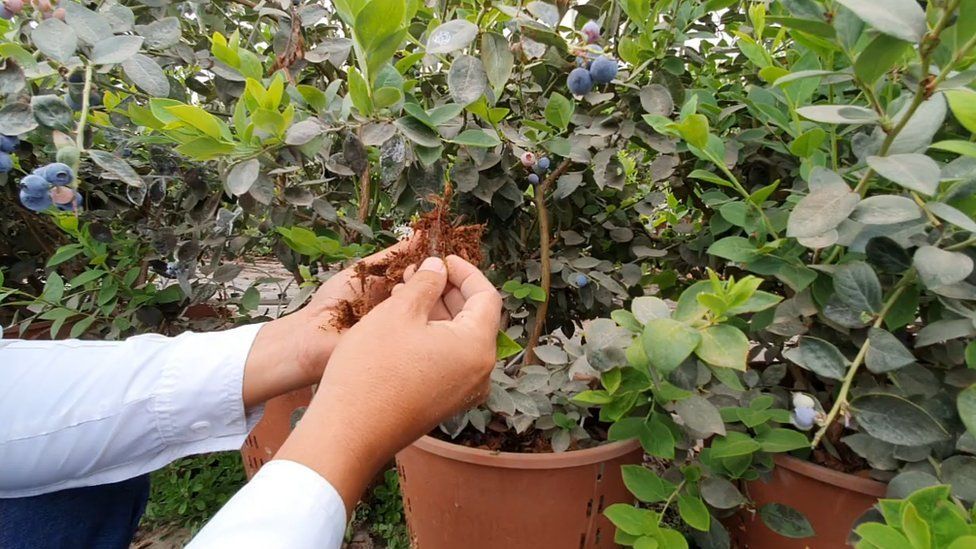 Peru now exports around 270,000 tonnes of blueberries a year. With so many additional berries entering the market, Peruvian producers are now only getting around $5 per kilo, but they have reacted by extending their harvesting season.
The relatively stable weather of the Peruvian coast has allowed some of them to harvest all year round.
Mr Gomez adds that "the incredible thing" is that global demand for blueberries has almost doubled in just over a decade.
Back at Sunberries Field, Mr Espinoza says that despite 2022's strong exports, it was a tough year because costs were up to 40% higher. This included higher prices for fertiliser as a result of the war in Ukraine, and increased global shipment fees.
He is hopeful for an easier 2023.
Source : BBC